Range: 20-25 miles
Max speed: 30-35 mph
Incline: 30%-40% Gradient
Dimension: 44in x 18in x 8in
Weight: 37 lbs
Rider weight limit: 330 lbs
Charge time: 5 hrs (with 3amp charger)
Light: Head light, tail light
Remote: Remote with screen
Wheel size: 200mm*55mm
Deck: 9 layer Canadian maple

Battery: 12S4P 768 Wh
Motor: 2600 Watts 170kv 6374*2
Drivetrain: Planetary Gear Drive
ESC: 50A
ET2 off road electric skateboard * 1
Screen remote * 1
Standard charger * 1
Bag * 1
Tools * 1
Instruction manual * 1
Experience The ET2 Difference
★ The ET2 is unlike any of the mass-produced boards in the market.
★ Most of the "AT boards" are based off the tried-and-true formula. You start with a pair of wide and carvey double kingpin trucks, slap on a set of 7-inch road tires, and add a set of belt drives for torque. While this setup allows for a fun carvey ride and the ability to swap into street wheels, this setup is ultimately a setup filled with compromise as it is trying to be a jack of all trade. When we were designing the ET2 we decided that this was going to be a board that can handle seriously offroading while still be nimble enough to run on the city roads.
★ Here is how the ET2 sets itself apart:

Ecomobl ET2




The other brands




Trucks Type

Reverse King Pin Trucks
This style of trucks is popular for downhill skaters and provides additional stability at speed and over rough terrain.

Double Kingpin Trucks

This style of trucks provides great agility but are unstable at speed and adds ride height to the board which further decreases stability.




Hanger Width

16 inch
In terms of off-road stability, the wider the more stable. ET2's hanger's are as wide as truck mountainboards trucks from Trampa and MBS

12 inch

The smaller truck size will offer better maneuverability but doesn't offer enough stability for true offroad use.




Tires

8 inch knobbies

These are the standard for most mountainboards. Perfect for conquering off road trails

7 inch street tires

These are great for riding the streets but would struggle when faced with true offroad terrain.




Drive Train

6374 motors with planetary gear drives

Bigger motors = more torque.

Gear drives allows for better power transfer compare to belts.

50xx motors with belt drives

Smaller motors allow for a smaller battery size at the expense of power.

Belts can snap when debris get stuck in the drive.
★ We didn't set out to build a board that can do an OK job with everything. Unlike the "AT Boards" our competition offers, the ET2 is designed to conquer the hills and offroads trails while still being capable in the city.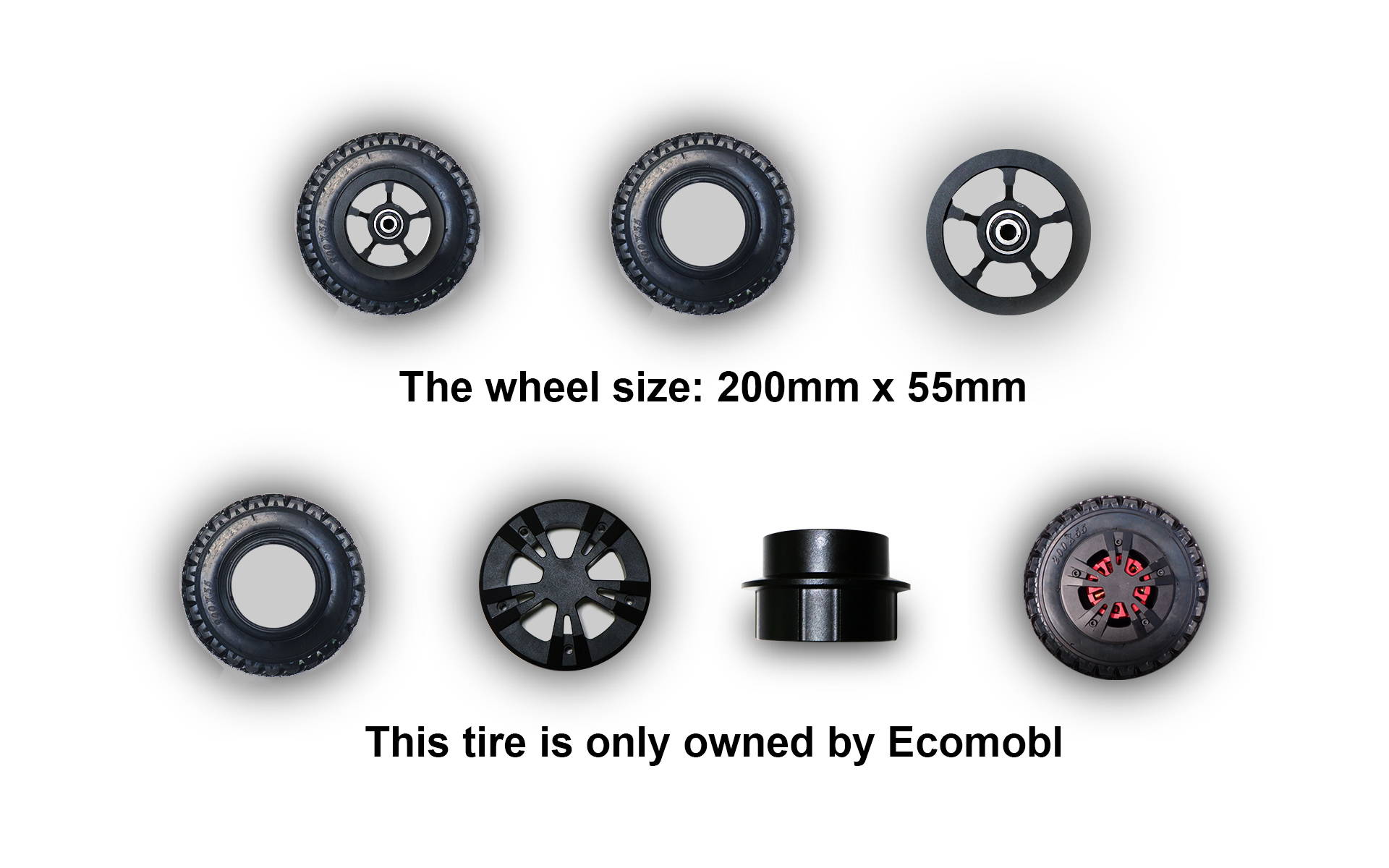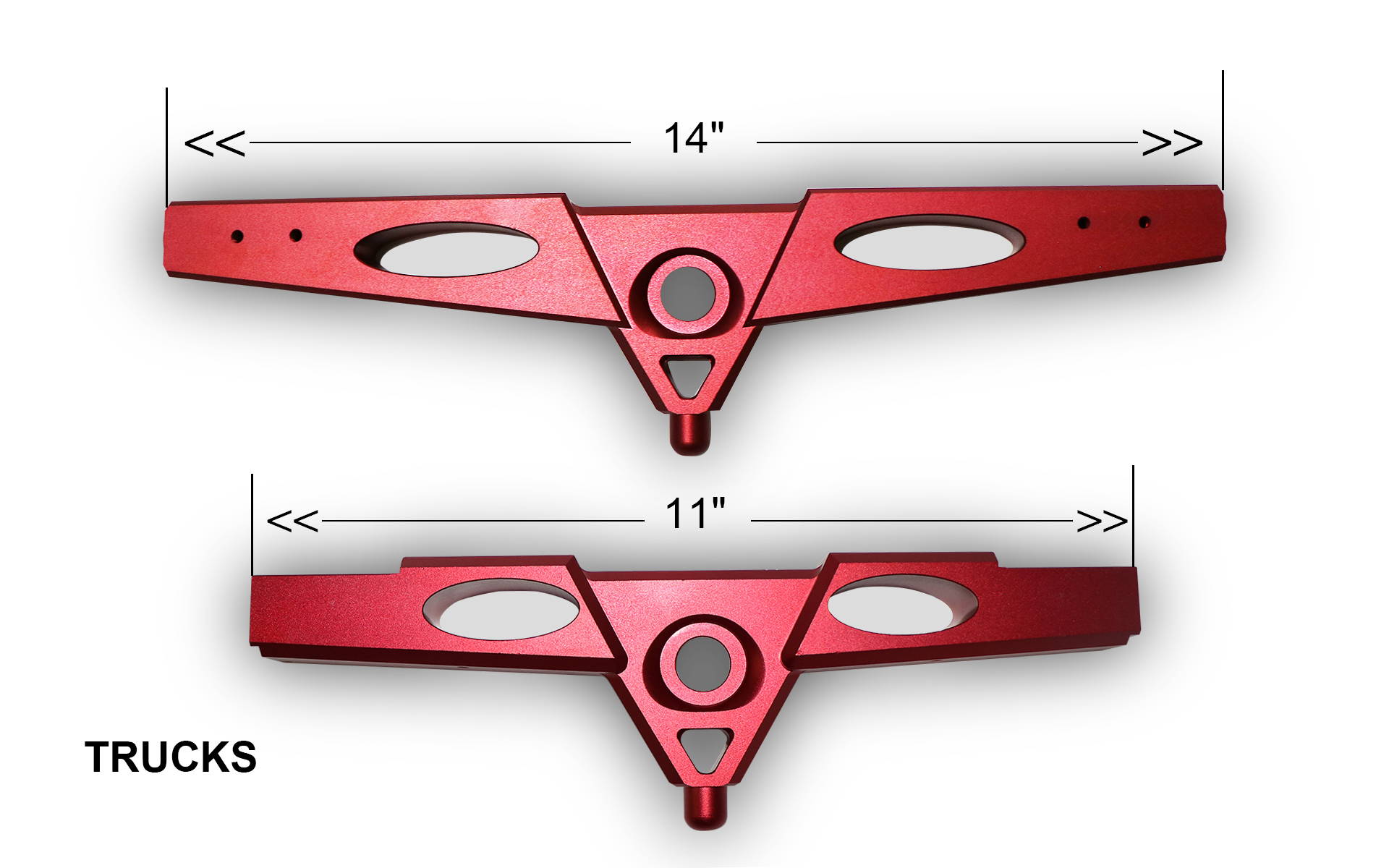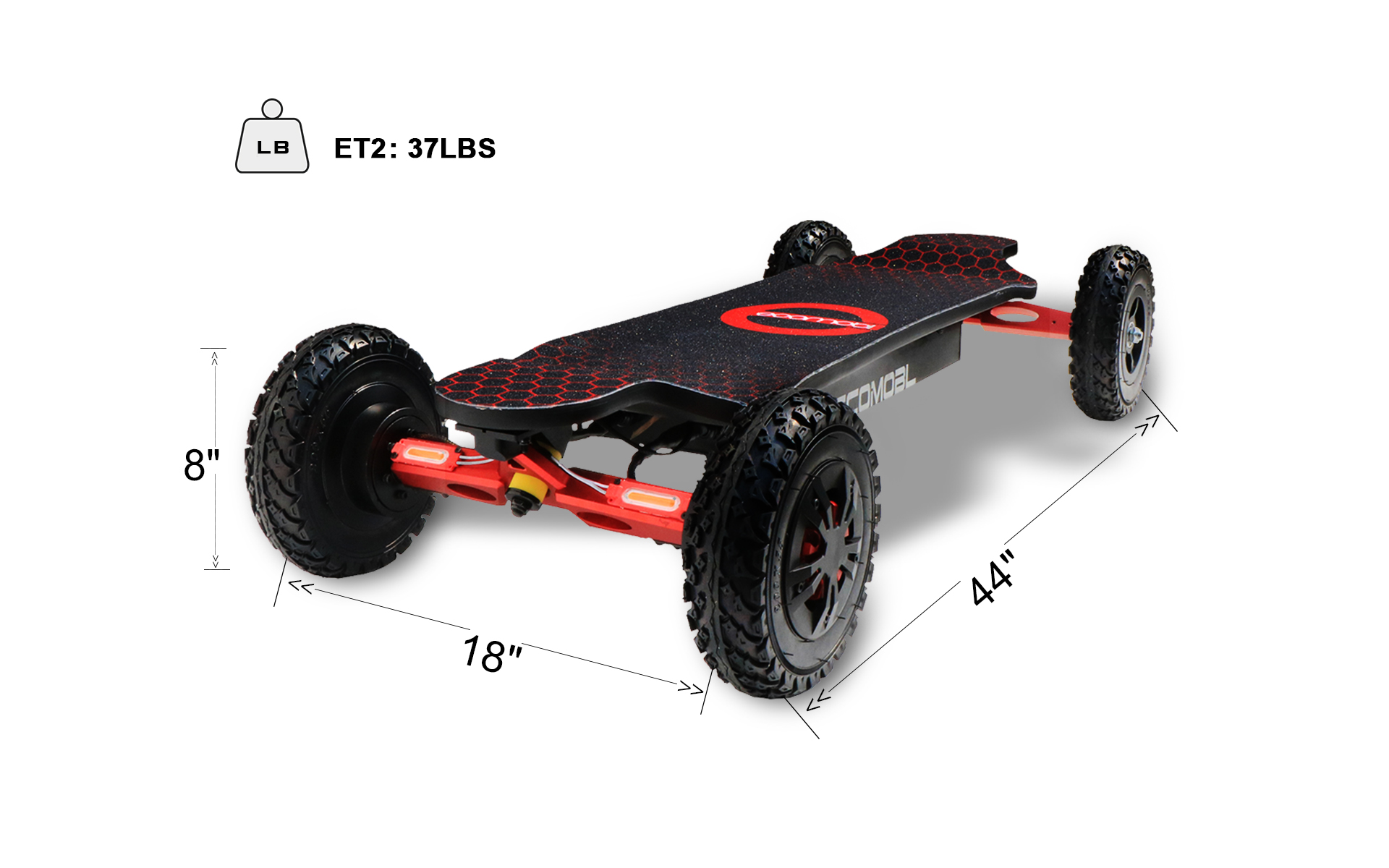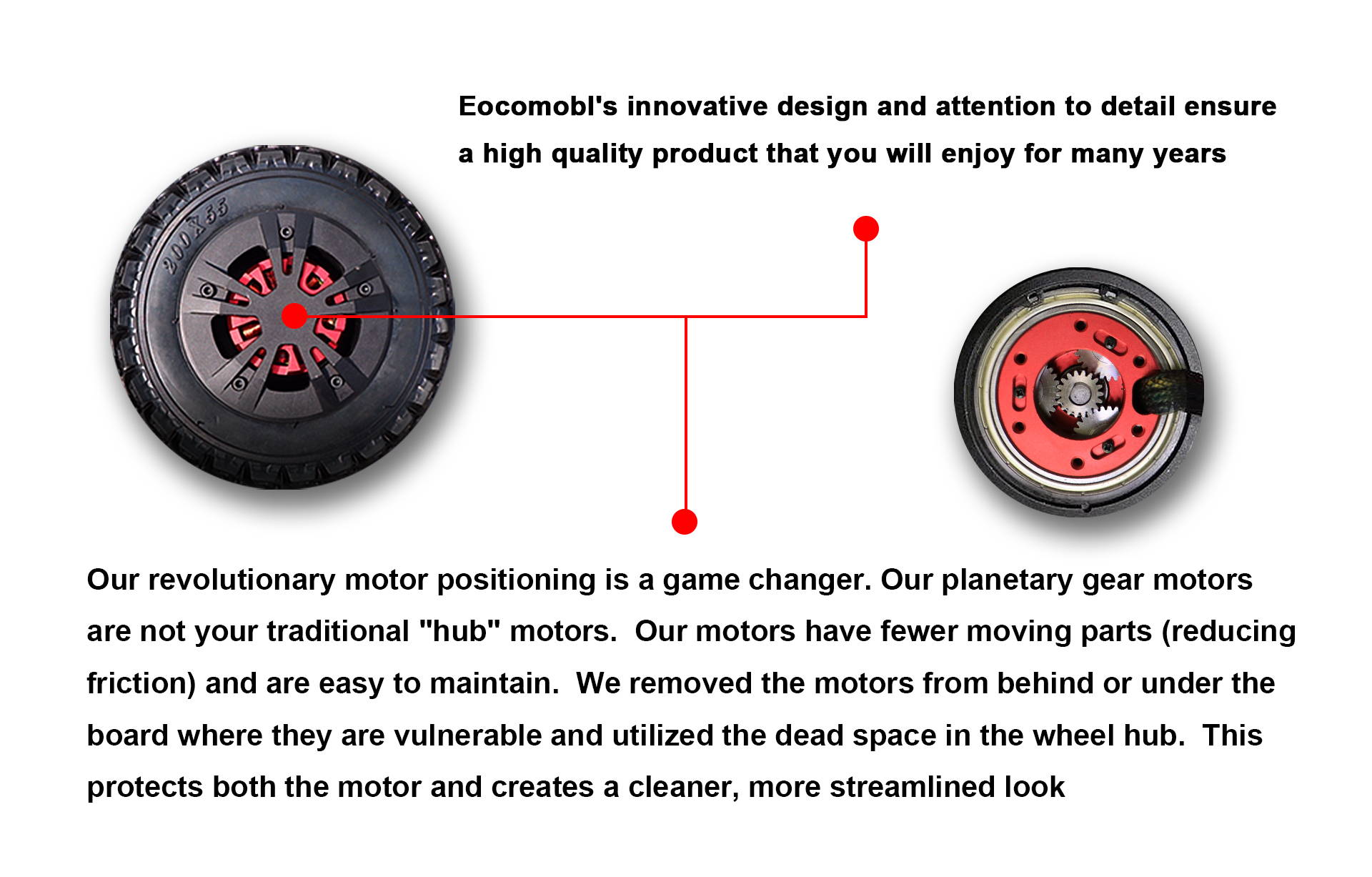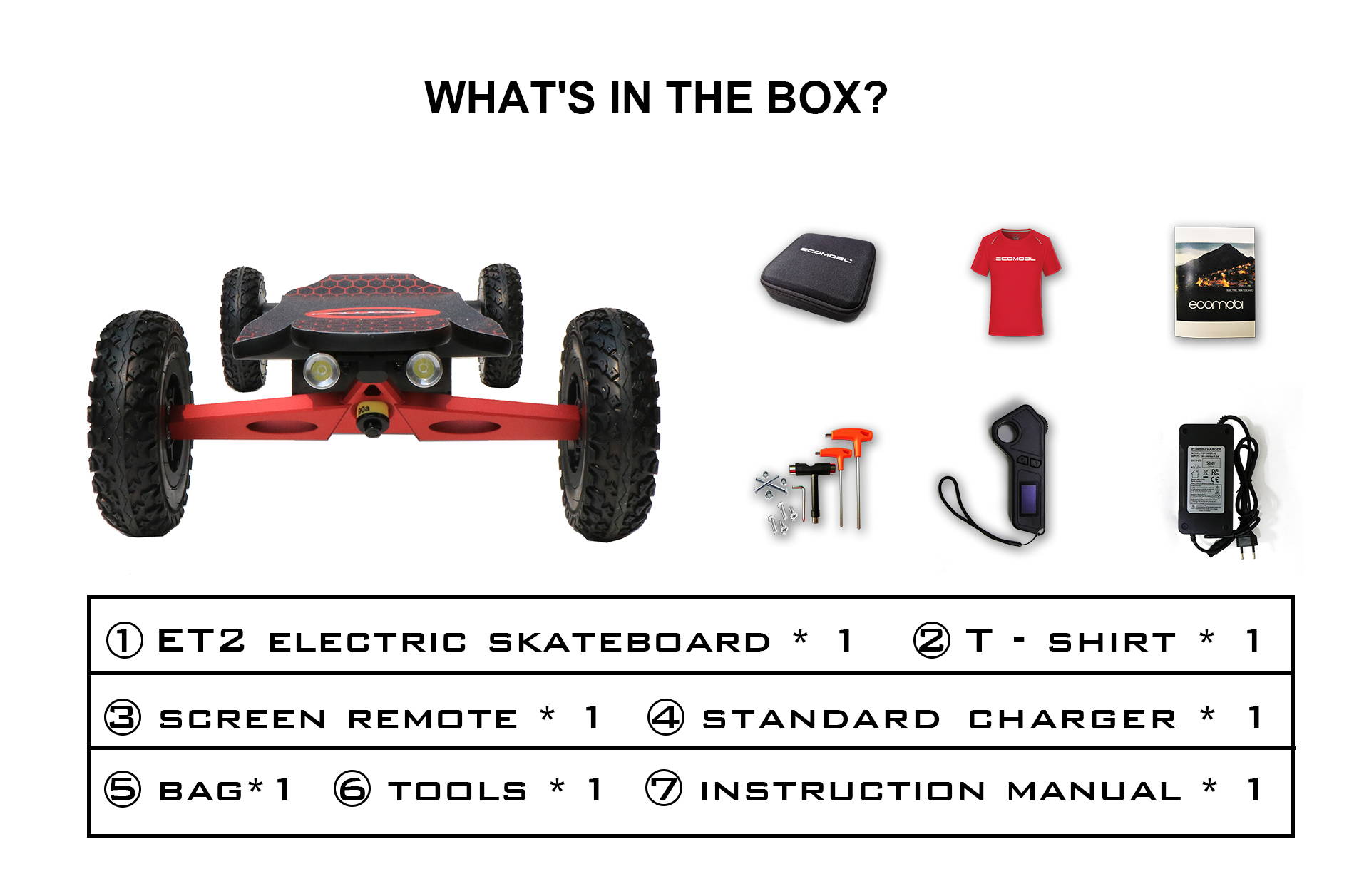 ★★★★★
"Get range & power with Ecomobl's 10C Cells battery configurations."
"A favorite in the DIY scene, our 10C cells have extremely high continuous amp discharge rates. While some cells have only 1 of high capacity or high amperage our battery has both. This high amperage ensures powerful torque which translates to better hill climbing, better movement of larger riders, and faster launch accelerations. All with less battery sag below 50% charge than some other 12S4P alternatives."




★★★★★

PRODUCT FEATURES

★ THE ECOMOBL ET2 IS A DIFFERENT MACHINE.

Ecomobl's innovative design and attention to detail ensure a high quality product that you will enjoy for many years.

Our revolutionary motor positioning is a game changer. Our planetary gear motors are not your traditional "hub" motors. Our motors have fewer moving parts (reducing friction) and are easy to maintain. We removed the motors from behind or under the board where they are vulnerable and utilized the dead space in the wheel hub. This protects both the motor and creates a cleaner, more streamlined look.

★ The ET2 is Ecomobl's latest skateboard, and is our most evolved model.
The larger double drop down Deck, gives it a low Center of gravity for better control with even wider trucks 18"/46cm, compared to the ET, it gives greater stability, clearance and off-road performance.
Still lightweight, only 37lb/17kg, it is Powered by our 12S4P battery and driven by two powerful 74mm brushless planetary gear motors, that effortlessly reach 30-35mph/48 -56 km, with great acceleration!!
It's unique airless wheels 200 x 55 mm is ideal for city, uneven asphalt or off-road conditions. These tires have an internal honeycomb structure so that tire punctures are no longer a worry. The honeycomb structure also ensures a tight grip, and greatly reduces vibrations.

Precise control is delivered through our latest motherboard with Power ESC, and latest Remote, providing 4 speed modes, 4 brake settings, partial and general odometer, speedometer.
Also comes with very bright LED head lights, rear brake and tail lights.
Water Proof rating of IP56.
Providing up to 20-25mph/35-40 km in range and able to climb 33-40% grade hill, this skateboard is extremely powerful and climbs hills like boards twice it's price.
Other Esk8 boards at this price range can only tackle a 28% grade.

★★★★★

WHY ECOMOBL?

THANK YOU FOR CHOOSING ECOMOBL

Welcome to the Ecomobl. We know you have many choices and we thank you for choosing us.

Ecomobl board is the new next-generation electric off-road skateboard, which is different from other skateboard brands in the market. The Ecomobl skateboard has its own characteristics and unique performance. When you receive it, you need to ride more to be able to adapt to it.

Our boards are the epitome of sophistication and strength in the eSkate world, providing the best riding experience in any terrain you want to conquer.
Enjoy your board, don't forget to come check in with pics or videos and remember we are always around if you have questions or need some guidance through your first servicing, or just want to chat.

Ride Hard, ride often and RIDE SAFE!

We take customer services extremely seriously. We pride ourselves on customer service in all of our growing territories, and intend to continue to expand or customer support team to give the best service available.

If you encounter a problem, please don't hesitate to contact us. We could be reached through our email at: services@ecomobl.com Please include a video showing the issue, it will help us diagnosis the problem. Once we review your issue, we will work as fast as possible to resolve it.

Ecomobl will work with you even if the issue is determined to be out of warranty or a result of user error. We will make our best effort to ensure that you have a great experience within reason. We would be happy to help you with repairs / parts to ensure you can continue to enjoy your board for a long time.

Ecomobl is a relatively young company still learning and growing.
We understand that we are not perfect and ask for your patience and trust. Its our promise that we will do our best to ensure you have a great experience.




★★★★★

All machine requires maintenance and care.

Ecomobl boards are offroad boards and take quite a bit of vibration when used in their natural environment. Check your bolts and screw regularly to see if they are loose. It will save you headaches down the road. If you follow up by being great owners, these boards would serve us for a long time.


Safe riding guys!



★★★★★
Quick PSA: Battery Care Guide

All modern electric skateboards run on lithium batteries. These type batteries offer a significant amount of storage and discharge rate in a very small package. Good care is crucial to extending the battery's life span and ensuring that it continues to perform. Keep in mind this is not unique to Ecomobl's boards but would apply to all consumer electronics running on lithium batteries.
★ Do not completely discharge or overcharge
Over charging / discharging will cause permanent damage to your battery!
Each battery pack comes with a Battery Management System (BMS) that helps avoid over charging / discharge. There are however scenarios that will still cause an over charge / discharge to occur.
★ Over Charging – As the board operates on regenerative braking, avoid intense braking (such as braking downhill) when the battery is fully charged. This can cause the BMS to temporarily shut off the board to prevent overcharge.
★ Over Discharge – Avoid running the board's battery to empty. If you do, charge it back up to 70% as soon as possible. Never store a full discharged board for an extended period of time.
Avoid extreme temperatures
★ Batteries operate best between 50° to 95° F (10° to 35° C) ambient temperatures.
★ They should be stored between -4° to 113° F (-20° to 45° C).
Keep the battery at 70% charge for long term storage
Never store a board fully charged or fully discharged.
A battery could fall into a deep discharge state when stored fully discharged. This will render it incapable of holding a charge.
A battery stored fully charged will lose some capacity, leading to shorter battery life.
Shipping

★ Country:

We can ship for the United States, Europe, Canada, Russia, Australia, New Zealand, Asian countries, Mexico etc.
For other places, please consult us.

★ →→→Shipping - How it works? - Please make sure you have read it.

Tax

★ Tax included:

EU, America, Australia, East Asia, Southeast Asia.
If you are in other countries, please consult us before purchasing.




Our amazing customer talk about it All over the world