★★★★★
It's ready to go out of the box.

★Product size: 38″ x 17″ x 9″

★Product weight: 43 lbs

★Rider Weight Limit: 330 lbs

★★★

Samsung Battery: 768Wh 12S4P 48V
★★★Max range: 22-25 miles

★★★ Top speed: 24-27 mph
★★★ Climbing grade: 28%-38% (Rider Weight 200lbs)

★★★ Lights: Headlight, taillight, body light
★★★ Gear: 2 steel bearings inside

★★★ Motor power:
2000 watts each


The theoretically achievable power of the motor.
★Charging time:
★ Terrain: All
★

ESC:
High power ESC continuous discharge current: 35-38 A
★The wheel size: 150*50MM
★Screen remote: 2.4Gwireless connection

★
Motor: 6366 brushless motors with planetary gear drive transmissions. NO BELTS!

2WD : 2 x 6366 brushless motors
★Deck: 9 layer Canadian maple

★Shock absorption effect: level 4

★Waterproof rating: IP56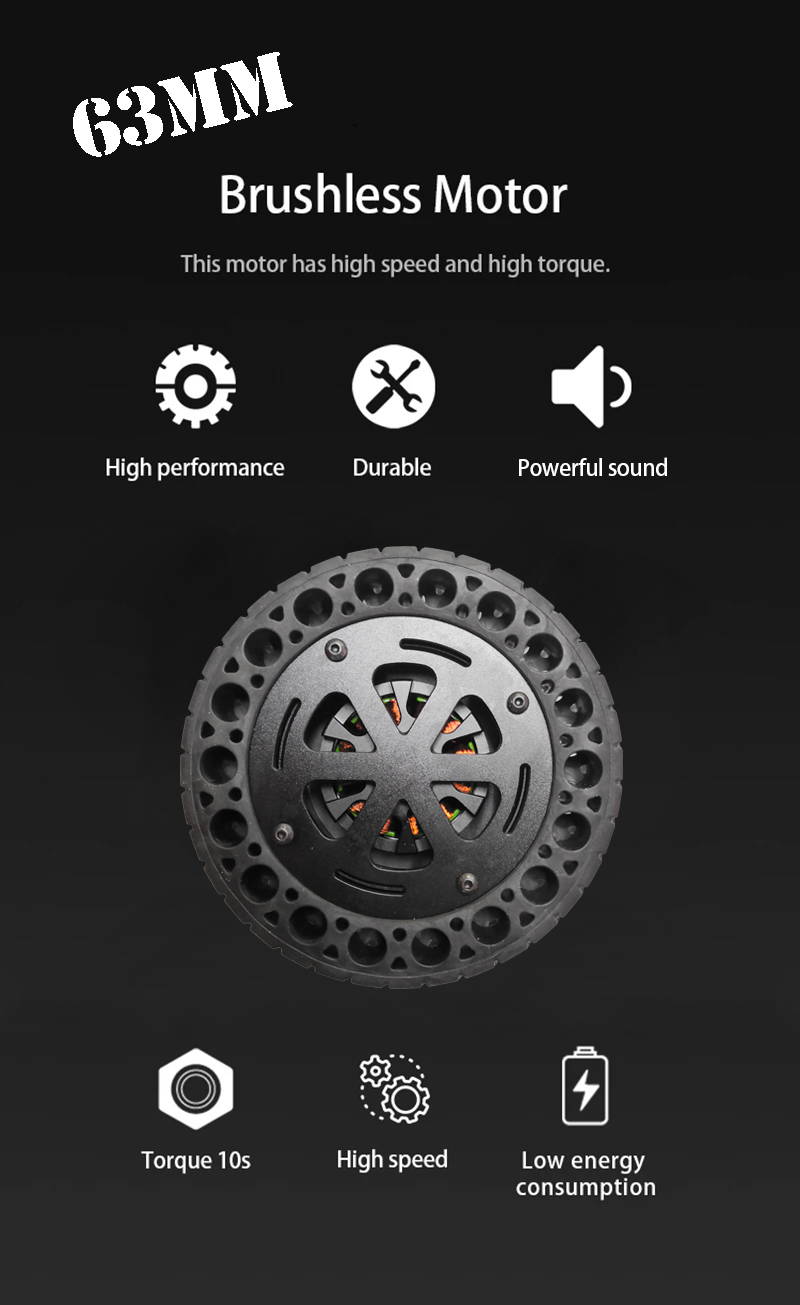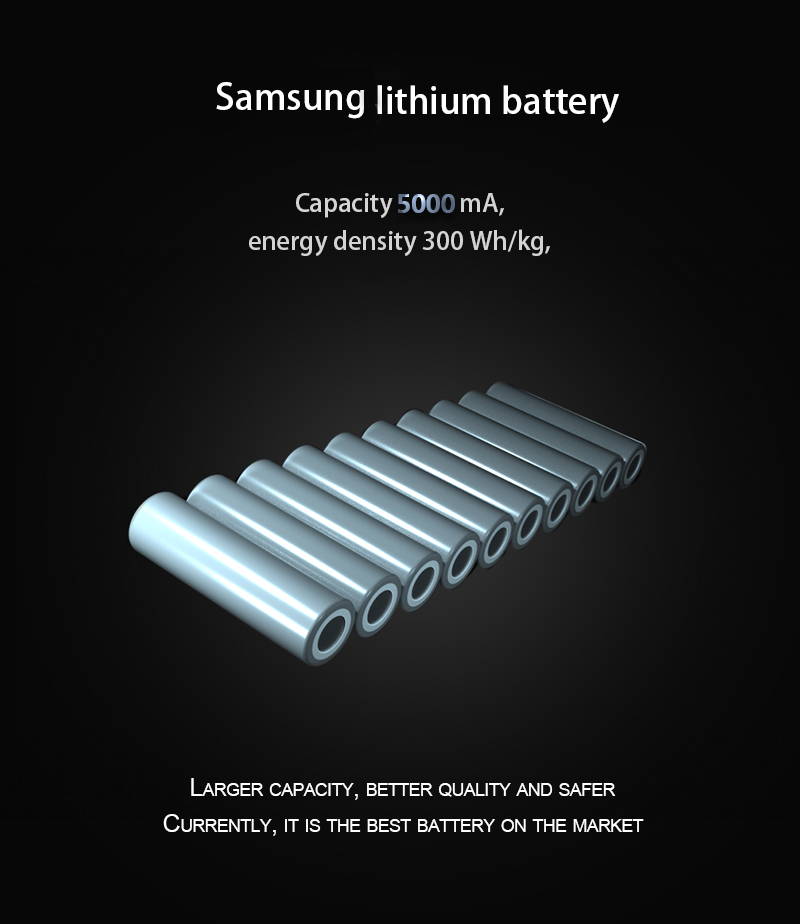 ★★★★★

PRODUCT FEATURES

★ THE ECOMOBL M20 IS A OFF-ROAD MACHINE.

Eocomobl's innovative design and attention to detail ensure a high quality product that you will enjoy for many years.

Our revolutionary motor positioning is a game changer. Our planetary gear motors are not your traditional "hub" motors. Our motors have fewer moving parts (reducing friction) and are easy to maintain. We removed the motors from behind or under the board where they are vulnerable and utilized the dead space in the wheel hub. This protects both the motor and creates a cleaner, more streamlined look.

1. It can climb up to 28% to 38% grade hills. Built like a monster truck, the only thing related to a skateboard is the deck, everything else is made from solid aluminium.

2. There are NO BELTS on this machine, it is powered by a new generation of motors. Inside each wheel there is a 63mm Brushless Planetary Gear Motor. With the use of gear drives this "electric skateboard" can go extremely fast but can also crawl on rocks exactly like an RC crawler.

3. There are 4 speed modes, and 4 brake modes independent of the speed modes.

★ THIS IS A TRUE OFFROAD MACHINE.

1. The 150x50mm wheels may look inflatable, but are not! Inside each tire is a honeycomb of rubber type material instead of a tube, so you never have to worry about tire pressure or flats!

2. Your ride will be smooth with our unique double-spring shock absorption experiencing far greater stability whether at high speeds and/or through rough terrain.

★ SOLID ALUMINUM CNC SUSPENSION.

1. All suspension components including shock towers, control rods, hubs, gears and linkages are milled from aerospace grade aluminum. This board is built to take a beating.

2. We protect our batteries through a precision bent, thick aluminum box. It's beefy so you don't have to worry.

★ THE HEADLIGHT IS EXTREMELY BRIGHT.

1. It is perfectly suitable for you to ride at night. The headlight has a lighting range of 10-15 meters.

2. The front, sides and rear of the board are complete with lights which can be controlled from the screen remote.

3. The screen remote control has the latest features, fixed road speed, cruise control, distance traveled and more.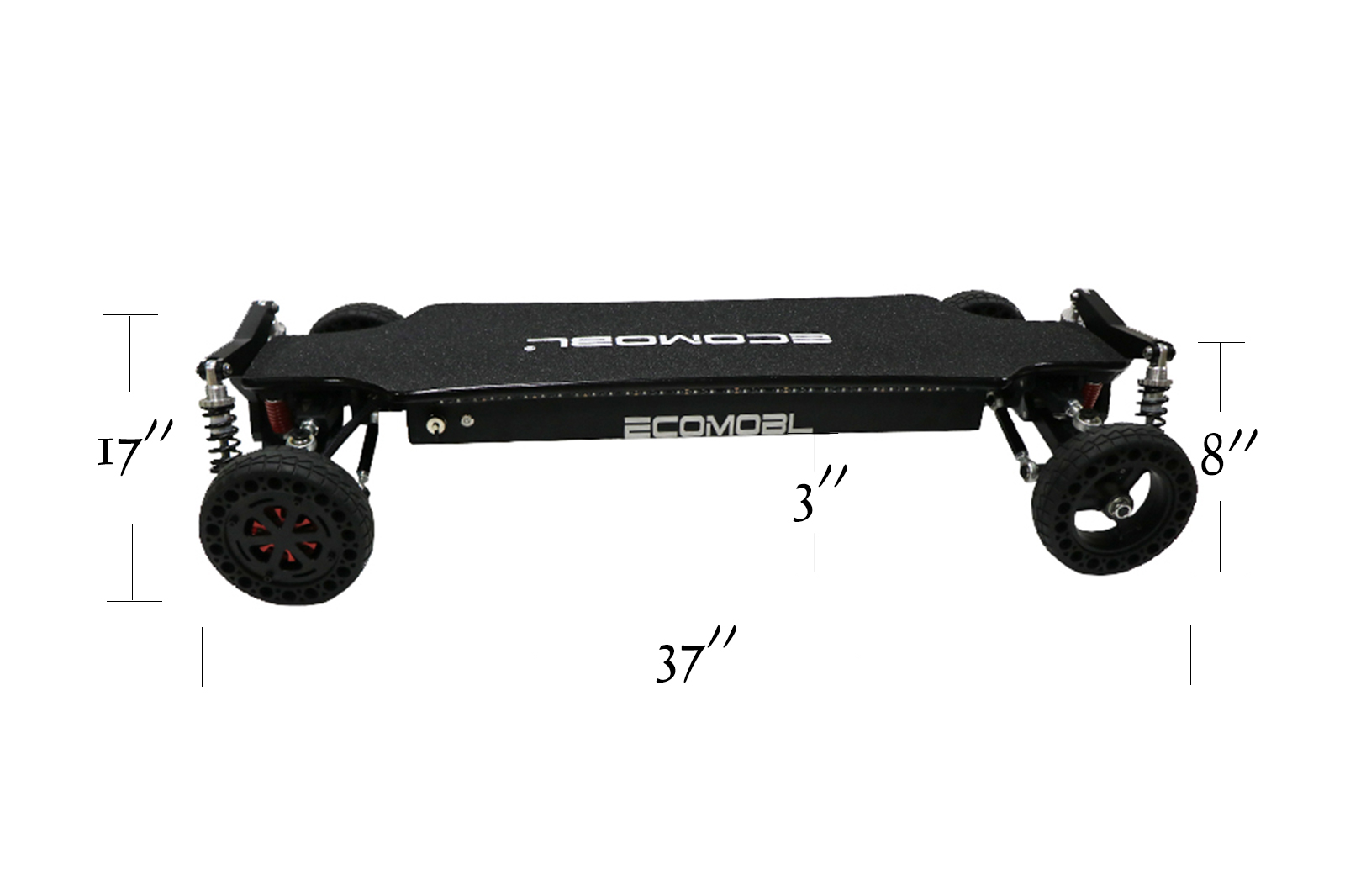 ★★★★★

WHAT'S IN THE BOX?

M20 off road black wheels electric skateboard*1, screen remote*1, standard charger*1, bag*1, tools*1, instruction manual*1.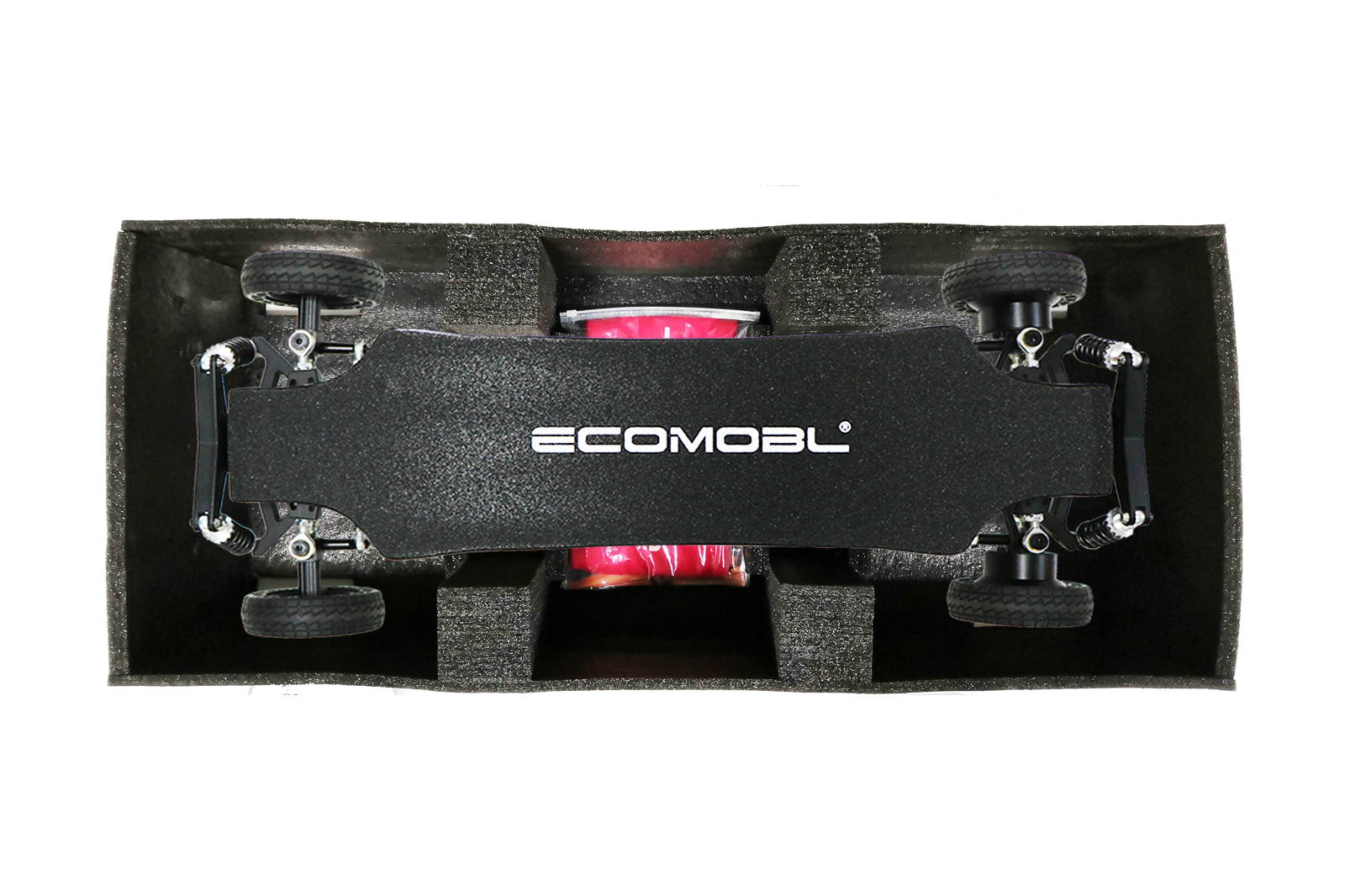 ★ These communitiesare for all Ecomobl customers and followers. Please feel free to ask asmany questions as you need. Sales, repair, modification, we are here toassist.
★We pride ourselves on the community we are building and hope you enjoy your experience as a member of the Ecomobl family.
Click on the following links:
Warranty

★ Warranty: All Ecomobl electric skateboards come with a standard six-month warranty which starts when you receive your electric skateboard.

★ Warranty content: ESC, MOTOR and BATTERY. (Water damage is out of warranty).

★ Process: If any issues occur, you will be required to cooperate with ecomobl board in good faith and first attempt to identify and fix any problem with ecomobl board instruction. Such instruction may be provided in person, via email (services@ecomobl.com). If a problem is fixed this way, the warranty claim is considered settled. When requested, you must provide ecomobl board with photos, videos or any other forms of evidence for assessment of warranty claims. Ecomobl board cannot validate any warranty claims or provide replacement parts unless you have cooperated as per above.

★ Solution: Once we confirm your problem, we will solve it for you as quickly as possible.

★ For more information, please read the warranty policy.

Warning, applies to all skateboard brands:

★ When you receive the skateboard make sure to test it for safety before riding. Particularly before riding on a setting beyond the first speed setting.

★ Before riding, always remember to inspect your board for loose connections, loose nuts,bolts or screws, tire condition, charge levels of remote and batteries, riding conditions,etc and ALWAYS wear approved protective gear.

★ Please use the original charger to charge the skateboard! If your charger is broken, please consult original factory before purchasing!

★ When charging the electric skateboard, please place it in an open area away from other objects. Don't charge overnight, and don't overcharge the skateboard.

★ When you are not using your skateboard for long periods of time ensure you charge the skateboard at least once 1-3 months. The battery should never be allowed to drain completely.

★ Observe the laws and regulations of your country. Avoid riding in dangerous places.
Shipping

★ Country:

We can ship for the United States, Europe, Canada, Russia, Australia, New Zealand, Asian countries, Mexico etc.
For other places, please consult us.

★ →→→Shipping - How it works? - Please make sure you have read it.

Tax

★ Tax included:

EU, America, Australia, East Asia, Southeast Asia.
If you are in other countries, please consult us before purchasing.




Our amazing customer talk about it all over the world