Most mountain boards on the market are too expensive so we decided to create a better board that makes most people can afford and easily conquer any rough terrain. In order to pursue a more extreme off road experience, we have started to R&D electric mountain board series since 2021.
We invited experienced designer to help us complete the original mode of Ripper which is our first attempt on mountain e-board. Ripper adopts Canadian maple for building its deck, which provide you with more stability. Quick swappable top mounted battery allows you to replace the battery quickly and get more range. The only deficiency of ripper is that the deck is a little bit stiff that might make your feet feel sore if you stand on it for a long time.
In order to eliminate that problem, we have released Telum series which adopt 100% carbon fiber deck with excellent elasticity. That kind of deck can totally make your feet more comfortable with less vibration on rough terrain. There are 3 different types of Telum for you to choose according to your own demands and situation.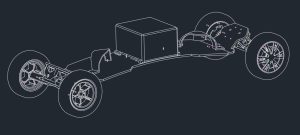 Post time: 11-17-2022
---