Electric longboard skateboards have transformed how we get around, providing a fun and environmentally responsible alternative to conventional transportation. Given the large range of brands and models available in 2023, it's critical to select the ideal board depending on your particular needs. This guide will help you figure out your riding requirements, analyze important factors to take into account, compare the leading brands of electric longboard skateboards, and offer advice for improving and maintaining your board.

Identifying Your Riding Needs
Determining your riding needs is crucial to choosing the right electric longboard. There are four primary riding requirements and recommended specifications:
Commuting and daily transportation
For those who rely on their electric longboard for daily commutes, a board with a reliable range, smooth ride, and easy portability is crucial. Look for boards with a range of at least 10 miles and a top speed of around 20 mph to ensure a comfortable and efficient ride.
Casual cruising and carving
If you're looking for a board to enjoy leisurely rides and carve through the streets, prioritize a flexible deck and responsive trucks. A mid-range top speed and a battery life of around 10 miles should suffice for casual riders.
Off-road and all-terrain adventures
For off-road enthusiasts, an all-terrain electric longboard with large, durable wheels and a powerful motor is a must. These boards should have a range of at least 15 miles and a top speed of 25 mph or more to tackle various terrains.
High-performance and professional riding
Professional riders require boards with exceptional performance, including high top speeds, powerful motors, and advanced braking systems. These boards should also have a range of 20 miles or more to accommodate long rides and competitions.
Understanding the advantages and limitations of different specifications can help you make the best decision and find a board that perfectly delivers riding enjoyment.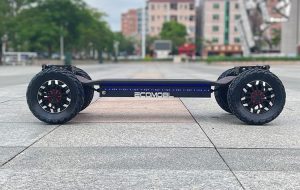 Key Factors to Consider before buying
Several factors should be carefully considered when purchasing an electric longboard:
Range and battery life
Consider how far you'll be riding and how often you'll need to charge your board. A longer range typically means a larger battery, which can add weight and affect portability.
Top speed and motor power
Your desired top speed will depend on your riding needs. Casual riders may be content with a top speed of 15-20 mph, while professional riders may require speeds of 30 mph or more.
Deck material and flexibility
Deck material can impact the board's durability, weight, and ride quality. Bamboo decks offer flexibility and shock absorption, while composite and maple decks provide more rigidity and stability.
Wheel type and size
Smaller wheels enable easier portability and faster acceleration, while larger wheels offer a smoother ride and better traction. Off-road bikers should choose all-terrain wheels made for different terrain.
Both cost and warranty
Consider your budget and the warranty offered by the manufacturer. A longer warranty can provide peace of mind and protect your investment.
By understanding these key factors and evaluating different options, you can make a wiser electric longboard selection.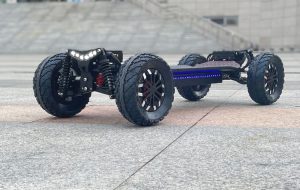 6 Top Electric Longboard Skateboard Brands in Comparison
Since we have a clear understanding of our personal needs, we may be able to choose the perfect electric skateboard from the following brands, each of which comes with its own advantages and disadvantages.
Boosted
Advantages:
High-quality boards with powerful motors and smooth rides.
Ideal for commuters and casual riders.
Reliable range and top speeds.
Disadvantages:
Higher price point compared to some competitors.
Company no longer in business, which may affect customer support and warranty claims.
Evolve
Advantages:
Versatile boards with options for street and all-terrain wheels.
Impressive range and top speeds.
Suitable for various riding needs.
Disadvantages:
Expensive compared to other brands.
Some users have reported issues with customer support.
Exway
Advantages:
Lightweight and portable design.
Customizable settings for a personalized ride.
Suitable for both casual and professional riders.
Disadvantages:
Slightly shorter range compared to some competitors.
Limited options for all-terrain riding.
Meepo
Advantages:
Affordable boards with solid performance.
Excellent choice for beginners.
Decent range and top speeds for the price.
Disadvantages:
Build quality may not be as high as more expensive brands.
Limited options for advanced riders.
Backfire
Advantages:
Durable boards with smooth rides.
Variety of models for different riding needs.
Good range and top speeds.
Disadvantages:
Some users have reported issues with customer support.
May not be as customizable as other brands.
Ecomobl
Advantages:
A famous brand with various of skateboards to choose.
Excellent longboard, off-road board and mountainboard for different demands.
Unique lighting system.
Good range, speed and stability.
High capability / price rate.
Disadvantages:
May not be as customizable as other brands.
By a holistic review of the advantages and disadvantages of these brands, you are sure to find your own electric longboard skateboard that can satisfy your needs.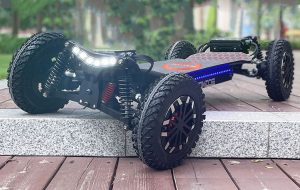 3 Tips for Maintaining and Enhancing Your Electric Longboard Skateboard
Here are 3 tips for keeping your electric longboard skateboard running well and enhancing your riding experience:
Proper battery care and charging practices: To prolong your battery life, avoid overcharging and store your board in a cool, dry place.
Regular cleaning and maintenance: Clean your board regularly and inspect it for any damage or wear. Tighten any loose bolts and replace worn parts as needed.
Accessorizing and upgrading for a personalized riding experience: Customize your board with accessories like lights, grip tape, and upgraded wheels to enhance your riding experience and make your board uniquely yours.
By following these tips, you can keep your electric longboard riding strong for longer.
Conclusion
Choosing the perfect electric longboard skateboard involves considering your riding needs, key factors like range and top speed, and comparing top brands. By exploring various options and making an informed decision, you'll be well on your way to enjoying the thrill and convenience of electric longboard skateboarding.
Read More
Post time: 05-06-2023
---