In recent years, electric skateboards have gained popularity as an eco-friendly and exhilarating means of urban transportation. With so many options available, it can be challenging to identify which skateboard offers the best performance and value for money. This article will compare five leading electric skateboard brands and highlight the standout features of the Ecomobl ET2 that set it apart from its competitors through real-life scenarios.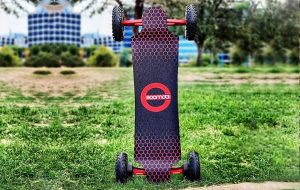 Ecomobl ET2 (200mm wheels)
The Ecomobl ET2 is a powerful all-terrain electric skateboard that offers a balance of range, speed, and durability. With a sleek design and superior performance, it is an excellent choice for both casual riders and enthusiasts.
| | |
| --- | --- |
| Range | The Ecomobl ET2 has a range of up to 30 miles (48 km), making it ideal for long-distance commutes or adventurous exploration of off-road trails. Picture yourself riding through a forest trail or cruising along a winding coastal road without worrying about your battery running out. |
| Speed | Reaching top speeds of 30 mph (48 km/h), the ET2 ensures a thrilling experience for riders. Imagine the exhilaration of cruising along a coastline or zipping through urban streets with ease, leaving traffic behind and making your commute an adventure. |
| Motor and Battery | The skateboard is equipped with dual 2600W motors and a powerful 16Ah battery, providing consistent power for a seamless ride. Its reliability means you can ride confidently, knowing you'll reach your destination with no interruptions. |
| Price | $1299, and ET (150mm wheels) only $899. At an affordable price point, the Ecomobl ET2 offers excellent value without compromising performance. |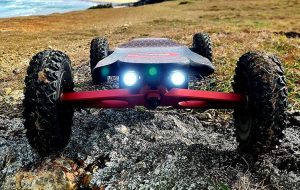 Boosted Stealth (90mm wheels)
The Boosted Stealth is a popular electric skateboard known for its smooth acceleration and top-notch build quality. However, when compared to the Ecomobl ET2, it falls short in some key areas.
| | |
| --- | --- |
| Range | The Boosted Stealth offers a range of up to 14 miles (22.5 km), which is significantly lower than the ET2. This limited range might be a deal-breaker for riders who require a longer-lasting battery for extended trips, such as a day trip exploring a nearby city. |
| Speed | With a top speed of 24 mph (38.6 km/h), the Stealth lags slightly behind the ET2. This difference becomes apparent when racing against the clock to make it to a meeting or effortlessly cruising through hilly terrain. |
| Motor and Battery | Powered by a 2100W motor and using a 5Ah battery, the Stealth delivers a smooth ride, albeit with a shorter battery life. This constraint may leave you high and dry when you rely on your skateboard the most. |
| Price | $1599. The Boosted Stealth's higher price point positions it as a less wallet-friendly option for consumers. |

Meepo AWD Pro (90mm wheels)
Boasting an exclusive array of features, the Meepo AWD Pro is an all-wheel-drive electric skateboard that sets itself apart. However, when comparing its capabilities to the Ecomobl ET2, there are some notable differences.
| | |
| --- | --- |
| Range | With a range of up to 18 miles (29 km), the AWD Pro falls short of the Ecomobl ET2's superior mileage capacity. Riders who need to travel greater distances without the hassle of recharging will find the ET2 more suitable, especially for weekend trips to neighboring towns or rural retreats. |
| Speed | Although the Meepo AWD Pro can reach a top speed of 34 mph (55 km/h), the high-speed setting might be intimidating for novice riders or those looking for a more leisurely ride. The ET2 provides an ideal balance of speed and control. |
| Motor and Battery | The AWD Pro's quad 540W motors offer powerful acceleration, but its 8Ah battery might struggle to maintain peak performance over longer journeys. This could affect your ride quality during extended commutes or marathon skate sessions. |
| Price | $849. While the Meepo AWD Pro has a lower price point than the Ecomobl ET2, its reduced range and battery capacity make it a less attractive option for serious riders. |

Evolve GTR Carbon (150mm wheels)
The Evolve GTR Carbon, another strong contender in the electric skateboard market, boasts a combination of impressive power and unique design features. Constructed with a carbon fiber deck, it offers both durability and lightweight performance.
| | |
| --- | --- |
| Range | The GTR Carbon has an estimated range of 19 miles (30 km) on the street setup and 12 miles (20 km) on the all-terrain setup. However, it does not match the ET2's impressive 30-mile (48 km) range. This difference is noticeable when riders plan extended trips or rely on their skateboard for daily commutes, such as commuting from the suburbs to the city center. |
| Speed | With a top speed of 26 mph (42 km/h), the GTR Carbon is slightly slower than the Ecomobl ET2 but still delivers a thrilling ride. Picture gliding through a city park or weaving between urban obstacles with ease and precision. |
| Motor and Battery | This skateboard is powered by dual 1500W motors and uses a high-performance 14Ah battery. While the battery capacity is noteworthy, the range doesn't quite measure up to the ET2. This might result in unexpected downtime during extended journeys or when venturing to remote destinations. |
| Price | $1599-$1849. The Evolve GTR Carbon carries a heftier price tag compared to the Ecomobl ET2, potentially discouraging more budget-minded riders. |
Exway Flex Pro (100mm wheels)
Renowned for its pliable and impact-dampening deck, the Exway Flex Pro ensures a smooth, cushioned ride across diverse terrains. Despite its comfort, the Exway Flex Pro falls short in other areas when compared to the Ecomobl ET2.
| | |
| --- | --- |
| Range | The Exway Flex Pro offers a range of up to 25 miles (40 km), significantly less than the ET2. This might limit riders who depend on their skateboard for extended journeys or weekend adventures, like a spontaneous trip to a nearby nature reserve or lakeside escape. |
| Speed | With a top speed of 25 mph (40 km/h), the Flex is slightly slower than the ET2. The difference in speed becomes apparent when racing friends on open roads or tackling uphill inclines, where the ET2's additional power can provide a competitive edge. |
| Motor and Battery | Powered by dual 1250W motors and a 349Wh battery, the Flex Pro provides a smooth ride but lacks the ET2's superior range. This might affect the quality of your adventures, as you'll need to plan your trips around recharging opportunities. |
| Price | $949. The Exway Flex Pro has a competitive price point, but its lower range and speed make it less attractive for those seeking a high-performance skateboard. |
Conclusion
When comparing the top five electric skateboards on the market, the Ecomobl ET2 emerges as the top choice due to its excellent balance of range, speed, and durability. While the other contenders each have unique strengths, they do not match the ET2's outstanding performance, making it the ideal choice for riders seeking an eco-friendly, reliable, and exhilarating mode of transportation. So whether you're navigating busy city streets, embarking on a weekend getaway, or exploring scenic off-road trails, the Ecomobl ET2 is the electric skateboard that outperforms its rivals and delivers a riding experience like no other.
Read More
Post time: 05-05-2023
---