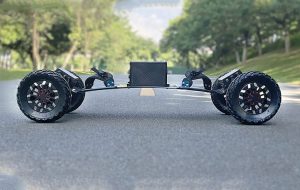 The allure of off-road electric skateboards has surged in recent years, captivating thrill-seekers and eco-conscious adventurers alike. Engineered to conquer diverse terrains, these boards boast impressive power, range, and resilience. Join us as we delve into the top 10 off-road electric skateboards on the market in terms of their performance, specifications, and terrain versatility.
Ecomobl Telum BA: 100% Carbon Fiber Flexible Deck
It's a new generation e-board on the electric skateboard market, equipped with the best Samsung 40T battery and quick swappable battery case. Also, you can swap 2 types of tires(pneumatic tires 230*80mm and non-pneumatic tires 250*90mm)at will and enjoy different riding experience. It is driven by four 3750 Watt motors (totally 15000W)and dual 65A ESCs, which can easily reach 35 mph and help you conquer 47%-57% slope. It is the only mountain board on the market that integrates the lights onto the truck. It is quite easy for you to ride at nighttime with the bright lights. The combination of carbon fiber deck as well as carbon fiber battery case gives it impeccable appearance.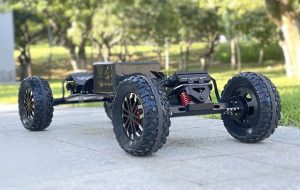 Ecomobl M24 Pro: The Best Suspension E-board
It's the unique suspension e-board with cool lights on the electric skateboard market. Its suspensions can greatly reduce the vibration from some rough terrain by up to 80%, which enables you to conquer any terrain more comfortably compared with other e-boards. It is driven by four 3500 Watt extremely powerful motors (14000W totally) and dual 60A ESCs, which easily reach 35 mph and help you conquer 47%-55% slope. It is the only suspension board on the market that integrates the lights on to the truck. It is quite easy for you to ride at nighttime with it. The combination of suspension system and integrated wheels gives it impeccable appearance. It's a beast machine built with one purpose, to go off-road. We gave the pro larger tires for more clearance, a wider and longer deck for better stability, and the rider can make a sharp turn. Comparing the M24 Pro to other AT boards on the market is like comparing a monster truck to your mom's SUV.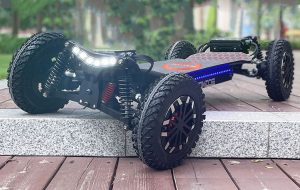 Trampa Pro Belt Drive: Sensational performance and high speed
Equipped with a Low Gear ratio of 4.7 – 1 (66 Tooth Slave Pulley & 14 tooth Motor Pulley) TRAMPA's PRO BELT DRIVE Electric mountainboard is extreme powerful & very reliable. It has good quality, long usage time, and is easy to maintain, so the maintenance cost is relatively low. Even if it's not the best all-round skateboard on the market, he's still one of the best in the Trampa product line.
With the installation of 13, 14 or 15 tooth Motor Pulleys will prominently alter your Torque & Top speed characteristics of your board. Adopting 13 Tooth will provide you with performance of that of a Mountain Goat, taking you up the steepest of hills or the to 15 Tooth which will accelerate slower than the 13, but will accelerate to a much higher top speed!
Evolve GTR Carbon: The Epitome of Performance and Style
The Evolve GTR Carbon reigns supreme with its carbon fiber deck, marrying strength and lightweight performance. This powerhouse is propelled by dual 1500W motors and a 14Ah battery, attaining a top speed of 26 mph (42 km/h) and a range of 19 miles (30 km) on street setup or 12 miles (20 km) on all-terrain setup.
Ideal for those seeking a responsive and smooth ride across various surfaces—from sandy shores to craggy mountain trails—the GTR Carbon's steep price point may be a deterrent for budget-conscious riders.
Meepo AWD Pro: Unleashing Raw Power
Meepo's AWD Pro, an all-wheel-drive electric skateboard, distinguishes itself with its potent quad 540W motors, reaching a blistering top speed of 34 mph (55 km/h). The board's 8Ah battery grants an impressive 18-mile (29 km) range, making it perfect for extended off-road escapades.
The AWD Pro is the board of choice for those who crave intense acceleration and velocity. Its robust design enables it to master challenging terrain, but the powerful motors and high top speed may be overwhelming for beginners, requiring a more gradual learning process to fully harness its capabilities.
Boosted Stealth: A Trusted Off-Road Companion
The renowned Boosted Stealth electric skateboard offers a top speed of 24 mph (38.6 km/h) and a range of 14 miles (22.5 km) with its 2100W motor and 5Ah battery. The Stealth's silky acceleration and build quality make it a dependable option for off-road enthusiasts.
However, the limited range of the Boosted Stealth may be unsuitable for extended off-road adventures, and its higher price point may be a concern for budget-conscious riders.
Exway Flex: Comfort Meets Versatility
The Exway Flex is celebrated for its flexible, shock-absorbing deck, ensuring a comfortable and versatile ride across various terrain types. Equipped with dual 1200W motors and a 259Wh battery, this board achieves a top speed of 25 mph (40 km/h) and a range of 16 miles (25 km).
Ideal for riders desiring a comfortable and stable ride, the Exway Flex is equally adept on off-road trails and city streets. However, its lower range and speed might not satisfy the demands of more advanced riders.
Backfire Ranger X2: A Rugged Adventurer
The Backfire Ranger X2, a stalwart all-terrain electric skateboard, comes equipped with dual 1200W motors and a 10Ah battery. This robust board reaches a top speed of 22 mph (35 km/h) and boasts a range of 21 miles (34 km), making it an exceptional choice for off-road exploration.
With its sturdy construction and vigorous performance, the Ranger X2 easily conquers challenging terrain, such as dirt trails and grassy slopes. However, its bulkier design may be less appealing for urban commuting.
Onewheel Pint: A Unique Riding Experience
The Onewheel Pint captivates with its single-wheel design and intuitive lean-to-steer control. Featuring a 750W motor and a 3.5Ah battery, this board provides a top speed of 16 mph (26 km/h) and a range of up to 8 miles (13 km).
Perfect for riders seeking a distinctive and agile off-road experience, the Onewheel Pint's compact design enables easy maneuvering on various terrains, including tight trails and winding paths. However, its shorter range and slower top speed might not cater to the needs of long-distance adventurers or speed enthusiasts.
Verreal RS: Smooth Power for All Terrains
The Verreal RS is an all-terrain electric skateboard boasting dual 1500W motors and a 14Ah battery. With a top speed of 28 mph (45 km/h) and a range of up to 22 miles (35 km), this board is a solid choice for off-road exploration and casual city riding alike.
Offering a smooth and powerful ride, the Verreal RS is well-equipped to tackle rough terrains such as gravel paths and forest trails. Its competitive price point and reliable performance make it an appealing option for riders seeking a well-rounded off-road electric skateboard. However, Verreal RS may not offer as many customization options as some other brands, which could be a drawback for riders looking to personalize their board.
Conclusion: The Ultimate Off-Road Experience
In conclusion, the top 10 off-road electric skateboards on the market each present unique strengths, catering to diverse rider preferences. From the sleek, high-performance Ecomobl M24 Pro to the unmistakable agility of the Onewheel Pint, there is an option for every off-road enthusiast. When selecting the perfect off-road electric skateboard, it is crucial to consider factors such as range, speed, durability, and terrain compatibility. By thoroughly weighing these aspects, riders can discover the ideal board to satiate their off-road adventure cravings while enjoying an eco-friendly and exhilarating mode of transportation.
Read More
Post time: 05-06-2023
---