Introduction to Ecomobl Mini
Ecomobl Mini is the best mini electric skateboard equipped with the most popular wheel (105mm wheel) on the market. It is driven by two 750 Watt motors and one 25A ESC, which can accelerate it up to 30 mph and help you conquer at least 15%-20% slope. It's one of the best mini electric skateboards on the market with cool lights, which help you ride the board easily at night. This is the electric skateboard of your dreams within a reasonable price range.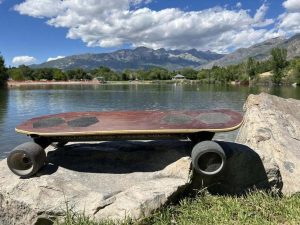 Reviewer of Ecomobl Mini
It's our pleasure to invite Mike, who is running a YouTube channel with nearly 50,000 subscribers. Mike is also an expert in reviewing electric products and can offer real and constructive reviews. By the way, his channel is Electric Revolution. Please feel free to subscribe.
Speed Test
This is very slow acceleration on speed mode 1 and it's around 5 or 6 miles per hour. And speed mode 2 is 15 mph, and mode 3 is 24 mph. Speed mode 4 can go even faster.
Acceleration Test
The acceleration of speed mode 1 at full throttle is a super gentle and easy start. Speed mode 2 at full throttle is not a lot faster but definitely faster than level 1. Speed mode 3 is substantially different than level 1 and level 2. Speed mode 4 is super powerful that can give a mind-blowing riding experience. Ecomobl Mini is the type of board that has a lot of power but smoothly delivers the accelerating speed.
Range Test 1 (Few stops)
In Mike's video, he showed us that he rode the board for ten and a half miles on the first battery bar, which is insane. Mike also mentioned that the mini comes with a tool and a hat and it's the first board where you have to add your own grip tape. He put the grip tape side by side according to his riding habits. And Mike actually really likes this board, especially for the price, and this shorter board that has the balance and stability of a longer board. That makes Mike feel like he's a better rider than he was. His app recorded 16 miles in distance and 204 feet elevation gain for the first riding test.
Range Test 2(Lost of stops)
In Mike's second test, he hit 9.42 miles for the first battery bar. When he lost 3 battery bars, he had gone 11.77 miles. In the end, Mike reached 17.72 miles with 525 feet of elevation gain when the battery was depleted. So it doesn't matter if the Mini board stops a lot or climbs a little bit more, for it functions the same.
Hill Test
Mike climbed a 14% grade hill for like three blocks, even if he was going to do two blocks on the highest mode. Ecomobl Mini got some great power. He believed he can even go faster for the road was really smooth. If you got a lot of hilly terrain in your area, this Mini board has the power to take you up it. By the way, he is 185 pounds as he mentioned in his video.
Brake Test
Regenerative brakes perform well on a 14% grade downhill. These gradual brakes got great braking power on that hill.
Read More
Post time: 03-28-2023
---