Introduction to the Ecomobl ET Storm
It uses the most popular wheel (105mm wheel) on the market as well as 12S dynamic system. Less noise, less weight, cool lights and excellent water resistance. Ecomobl is able to help you conquer most of the slopes in the city. 1800W extreme high power extreme high torque motors. It is driven by two 900 Watt motors and one 30A ESC, which can accelerate its speed up to 30 mph. And help you conquer 15%-25% slope. It's one of the very few e-boards on the market with lights. It is quite easy for you to ride at nighttime with it. This is the electric skateboard of your dreams with pricing options you can afford. Designed by automotive engineers and featuring an innovative turning radius and stability control system, ET Storm boards allow for a terrific carving experience on roads, and the opportunity to tame terrains that other boards wouldn't dare.
This is very similar to ET range and ET2, however this one is a hub drive. So there are a lot less maintenance and a lot less noise.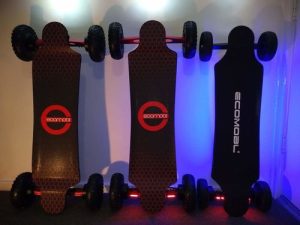 Deck
It's the same as the ET and ET2 so it's 9 layers of Canadian maple and 2 layers of fiberglass. It means it's quite strong and it has no flex which makes it ideal for a heavier rider. It doesn't have the flex or the rebound throwing you off and giving you speed wobbles. The shape of the deck is really deep drop down front and rear, and almost over exaggerated concave on the toe and heel of the e-board makes it an absolute pleasure to ride, cruise, curve and just have fun. There is no foot fatigue and it just doesn't feel uncomfortable.
Cruise Control
You can set that holding your speed and tapping the power button once quickly. The ESC is putting out 30 amps so that's 15 amps per motor. So it's certainly not the most powerful ESC out there but it does a good job of delivering predictable smooth power and it has quite a nice top speed. He has personally hit 45 on it and can even go a little bit faster.
It says it has a hill climb of 15 to 25 percent. Firstly, I am glad they are being honest with the board's limitations and I believe that what they are saying is correct I could probably do 15 to 20 on this board being 100 kilos and I think if you are a lighter rider you could definitely do the 25 percent as far as the acceleration off the line. It's not breakneck and not going to compete with your Meepo hurricanes, even your Flex Pros but it's still very smooth and very agile and a lot of fun. Once it gets rolling it does get up to a good top speed.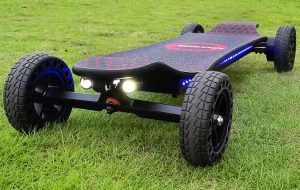 Battery
Now the next thing to talk about and probably the thing that makes the e-board such good value is the battery. It's a 12S3P 518wh 12 amp battery. The cells are a bit of a mystery I've asked them they told me they're around 43.5 volts. I think for a memory they haven't given me a brand name so I'm only assuming it's a no brand cell. My only concern would be the cycle count but until I know the actual type of cell we can't really comment on that.
Lights
Staying underneath the board you've got light and underglow lights and this is another big improvement. All the ecomobl e-boards I think have had these but they used to have a bit of a silly setting where you turn them on which was bright, a super bright headlight. But when you turn them off, everything is still flashed. Every time you pull back on that brake. Now I've given them feedback and I know other people did as well just to scrap that feature because it's just silly, you don't need to be riding during the day and having your headlights flashing at every time you hit the brakes so now it's lights on light off which is so much better.
Summary
These are how the review thinks about the ET storm. You can find him on YouTube: Scott Davies. He is a professional electric skateboards reviews who has published over 300 videos regarding the electric longboard and mountain board. You can also find the original video through the link.
Read More
Post time: 05-19-2023
---